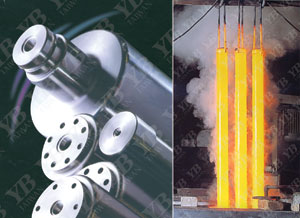 Special Feature
High standard ,rigid steel grade and manufacture by customer designNo cracks and spilling.
Experienced technical support group -solve your problem fast.
Advance Salt Bath FurnaceComposed more refined and stable structure,than old style strengthen mechanic properties.
High Quality RollsHot impact,resistance,anti-wear test,Compression resistant and hardening test,25% greater life performance than suppiler under normal situation.
Special Feature
A: High Qualified Marterial Selected Through Melting Processing
100% ESR material choice is our first priority, it provided high cleanliness and low non-metallic inclusion.Avoid the
defect of the strip surface.
B:Advance Salt Bath Furnace rather than Old Style Salt Bath Furnace
To eliminate the amount of residual Austenitic and stress, a repeating tempering process is employed. The tempering
heat treatment can stabilize fine-grain, micro structure inside the rolling material, avoid cracks and phase transformation
induced on the rolls surface when the rolling process is in employment.Advance heat treatment equipment,which made
the heating and cooling process fast than old style Salt Bath Furnace in Taiwan,Japan,Europe¡­¡­.
C: Strict Quality Control and Inspection Report
All of the materials used to make the roll are inspected by Nondestructive Macro analyses and microanalyses, such as
X-ray Defectoscopy, magnetic power test, Ultrasonic inspection and EDS composition analysis.
Mechanical and physical properties, including strength, toughness, thermal shock resistance, and wear resistance,
will be inspected by our Quality Control Department before shipping. Every roll has one test report which including
composition,hardness,physical properties and the dimension.
D:Global Leader in Heating Treating Tech
Heat Treating Team based on 30 years heat treating experience in Taiwan
By means of new heat treating processing,avoid the defect and limitation
New tempered-Martensite refined structure (grain size) smaller than old structure,thus Roll's toughness and wear
resistance are more stronger than any other roll supplier in the world.